Our history
Cofely Kft. owned by the ENGIE Group merged with Cothec Kft. on 1st of August in 2019.
Cofely's scope of activities includes the complete design, construction, maintenance, service and operation of industrial and comfort facilities.
By the merger, the new company, ENGIE Hungary was established and united the value chains of Cothec and Cofely and their strengths. Thus a unique company emerged in the Hungarian energy market that is able to complete building engineering and environmentally friendly, technology-based energy projects from the idea, through design and installation combined with financing to the operating.
The sole shareholder of ENGIE Hungary Ltd. is the Austrian ENGIE Austria GmbH (formerly Cofely Holding GmbH).
For more information about ENGIE Austria GmbH, see the Shareholder structure menu point.
Cothec Ltd.
Cothec Energetic Operator Ltd. was founded by foreign investors in March 1998. The shareholders decided to extend the scope of services of Cothec Ltd. in the Hungarian heat energy market involving know-how, expertise and sufficient capital. This service is the so-called ESCO-activity, which incorporates the design, financing, construction of equipment to be established, furthermore performance-proportionate costing, as well as the division of costs among various facilities if necessary.
When establishing new heat supply systems beside economical aspects and efficiency, environment protection was the most important basic principle of the company.
COTHEC Ltd. thanks to the comprehensive experience – in the field of gas supply, design, construction, operation and heat supply – gained through its Shareholders and to the professionally well-qualified employees was able to render high quality services for its clients.
Change in the ownership background of Cothec Ltd.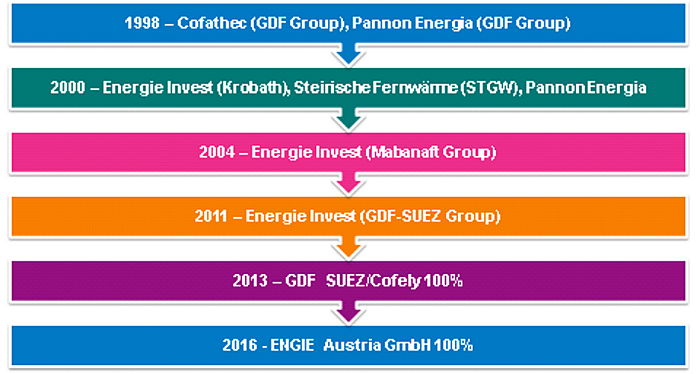 Cofely Ltd.
The legal predecessor of Cofely Ltd., Sulzer Infra Ltd., was established in 1990 in Hungary, which was a member of the Swiss Sulzer Group. The company was acquired in 2001 by the Belgian company FABRICOM, which belongs to the French ENGIE group.
Depending on the task, COFELY Ltd. undertook building engineering tasks independently or together with other ENGIE companies.
The scope of activities of the company included the complete design, construction, maintenance, servicing and operation of industrial and comfort facilities.
Change in the ownership background of Cofely Ltd.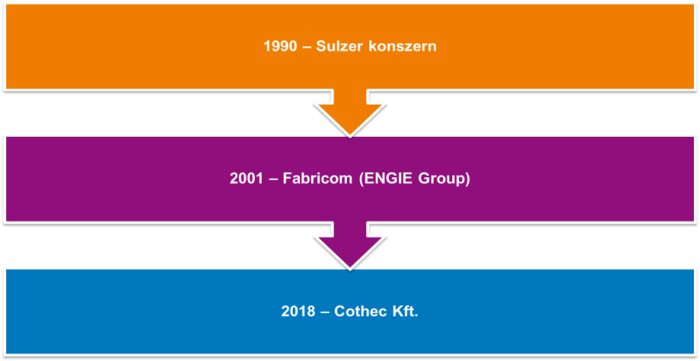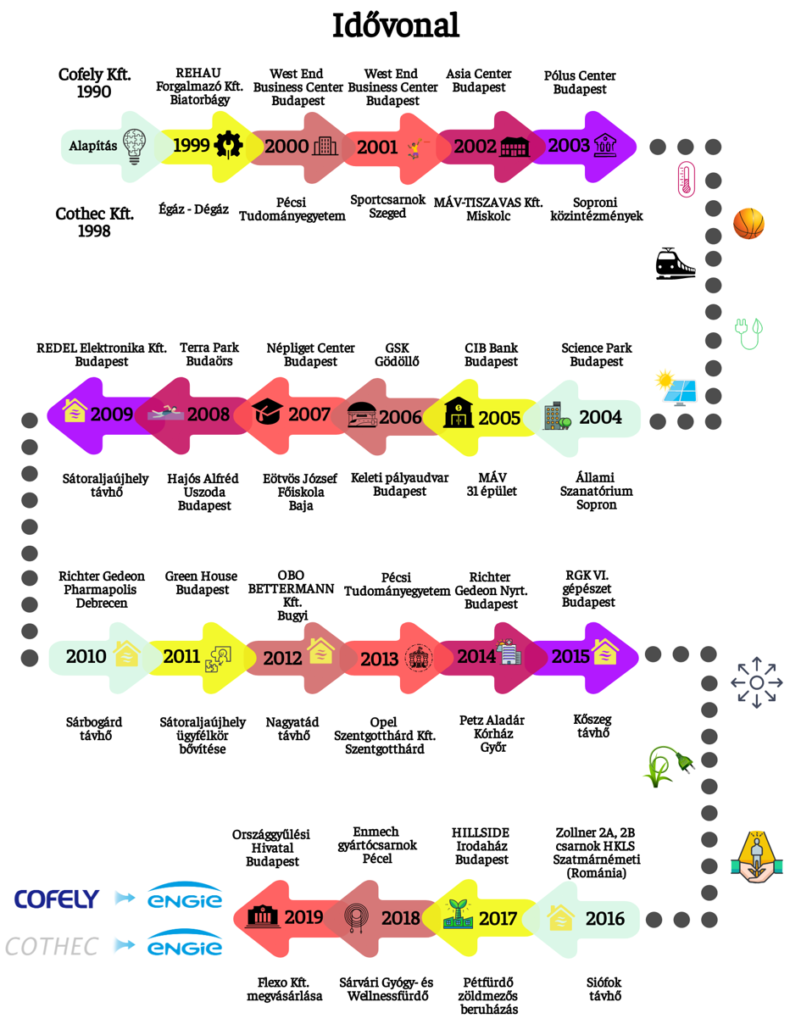 ENGIE Magyarország Kft.
Headquarters: 1191 Budapest, Üllői út 206.
Tel.: +36 1 460 1030
Fax: +36 1 460 1050
officebudapest.hu@engie.com
Mail address: 9024 Győr, Hunyadi u. 14.
Tel.: +36 96 335 816, +36 96 526 805
Fax: +36 96 528 654
officegyor.hu@engie.com