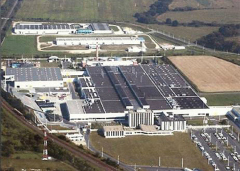 OPEL Szentgotthárd Automotive Industrial Ltd. and
our company decided to co-operate to implement energy retrofit in the Opel plant located in Szentgotthárd in 2012. As the first step, we modernised the entire heat generation system. In 2014, as a second step, we installed a compressor waste heat recovery device into the compressor system. Apart from the new equipment also suitable for heat exchange, a heat quantity meter ensures economic operation which results in further energy savings.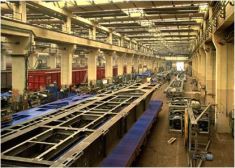 Our company by installing the former heat generation units separated by buildings established decentralised hot water central and dark radiating heating systems. Newly installed total thermal capacity is: 6.500 kW. The achieved energy saving is 40%. Due to the Customer's satisfaction the contract was extended by 5 years on expiry. Within the framework of the agreement a new investments were made.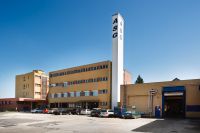 Within the framework of the retrofit a gas condensation boiler system of 500 kW total capacity with a weather related control, new sanitary hot water containers and a flue gas discharge system was established.
During the modernisation the control and regulation of the secondary heating system was renewed in the heat centre. After the modernisation our comapny renders heat supply services for the offices, social and reception buildings of ASG Machine Manufacturing Ltd. within an 8-year contract.
ENGIE Magyarország Ltd.
Headquarters: 1191 Budapest, Üllői út 206.
Tel.: +36 1 460 1030
Fax: +36 1 460 1050
officebudapest.hu@engie.com
Mail address: 9024 Győr, Hunyadi u. 14.
Tel.: +36 96 335 816, +36 96 526 805
Fax: +36 96 528 654
officegyor.hu@engie.com